← Back to Blog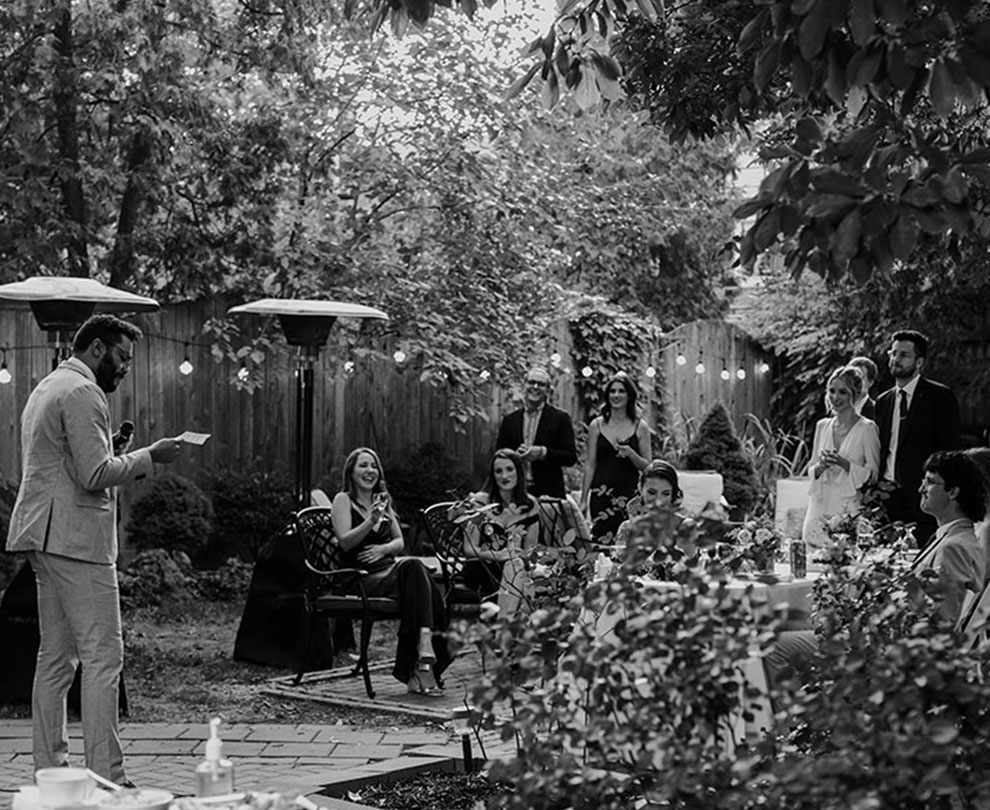 As more and more couples consider micro weddings and elopements, there's been a huge rise in backyard weddings. As a wedding photographer, I love the intimacy of an at-home wedding. Not only will your guest list be smaller, but you'll also be getting married in a familiar space. It can eliminate a lot of the stress of your day.
That being said, planning a backyard wedding comes with its own obstacles. These are my top five tips for planning a safe, enjoyable wedding at home.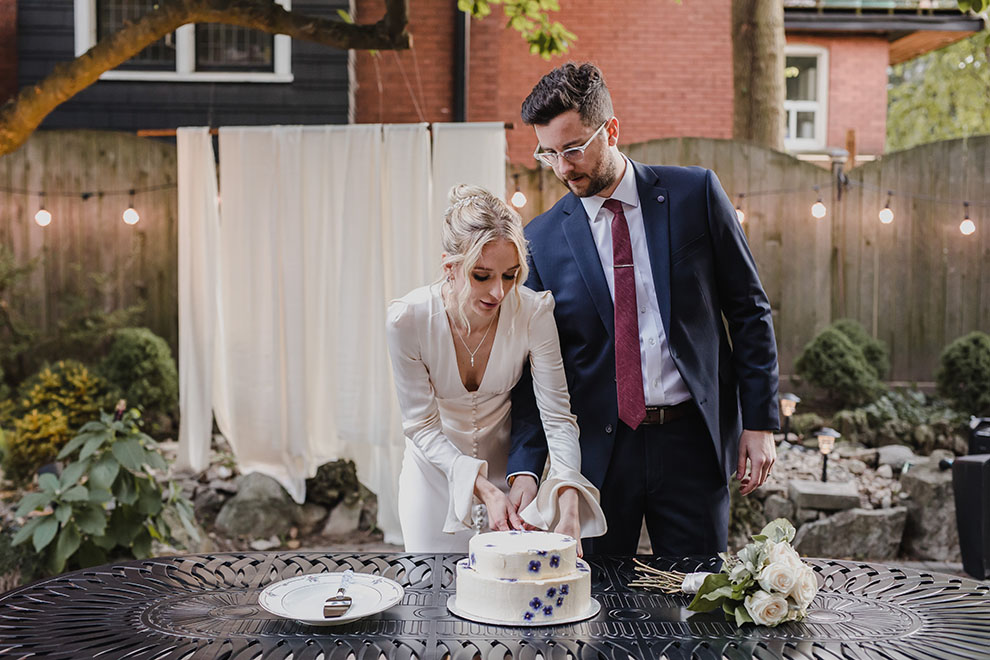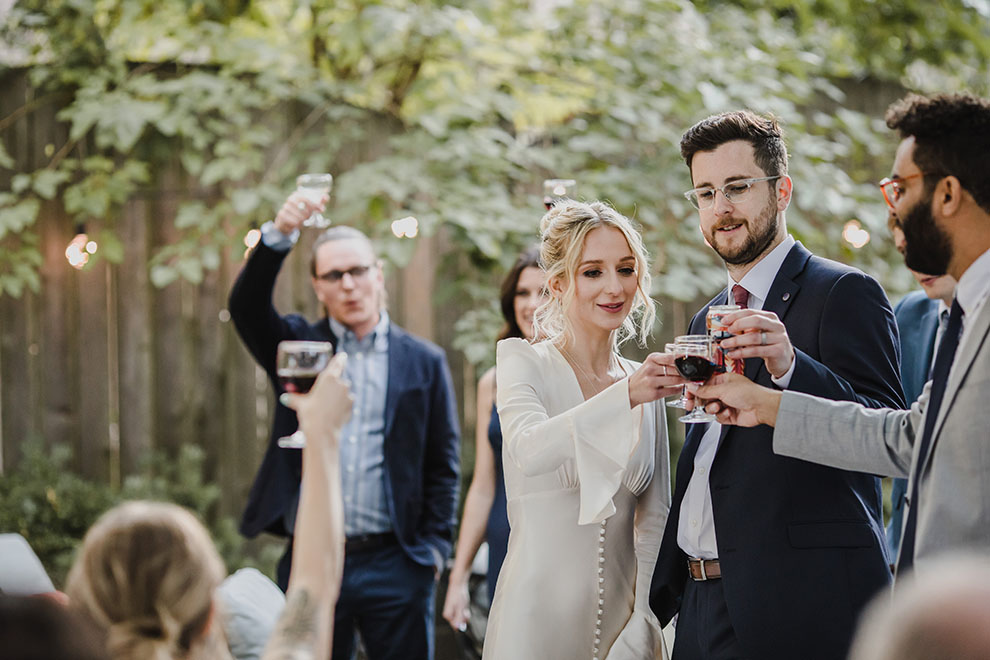 My Top 5 Backyard Wedding Tips
1. Apply for a permit.
Even if you're hosting your wedding on your own property, you might still need a permit from your city or county. This permit should allow you to do everything you need on your day: set up temporary bathrooms, put up a tent, play loud music, etc. Even if you're not selling alcohol, you may also need an additional permit to serve it.
As you apply for your permits, you might also mention the event to your neighbors. If they're aware of the event in advance, they'll be less likely to complain about noise or cars outside your home.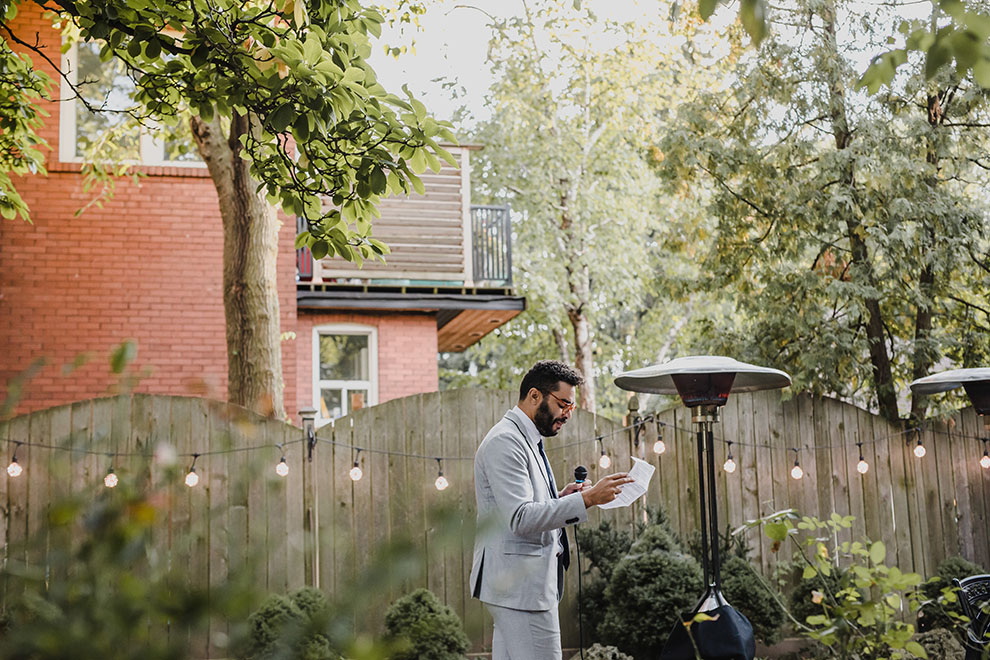 2. Invest in insurance.
No one ever wants to think something would go wrong on their wedding day, but as a photographer, I can almost guarantee something won't go as planned. Hopefully, it's something small! But in case of emergencies, injuries, or property damage, it's always best to invest in insurance for your wedding day.
Reach out to your home insurance provider and ask what kind of coverage they suggest for your wedding day. This should cover your damage to your home, yard, decor, and rentals; injuries to guests or vendors; and any costs you would incur if you had to cancel your wedding. Hopefully, you won't need it, but I always suggest it.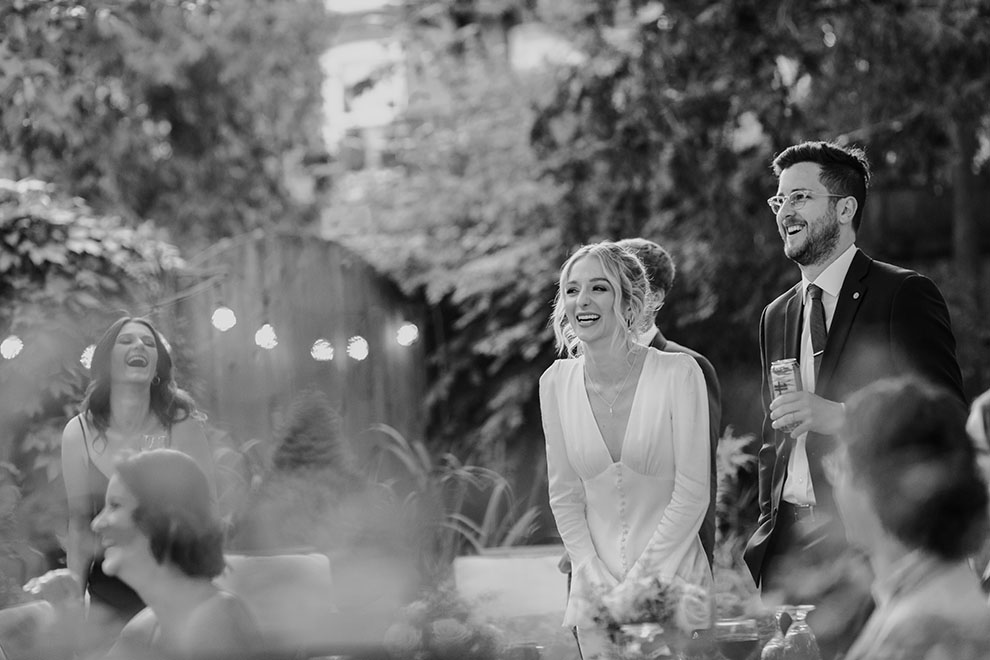 3. Have a backup plan for bad weather.
On the topic of the unexpected, you'll need a backup plan in case of rain on your wedding day. Here in Niagara, you never know when showers might roll through. While a traditional venue might have a backup space already set up for you, you'll need to get creative with your backup plan for your at-home wedding.
You might set up canopies, secure a backup location (like a relative's home or a rental space), or set a backup date. Whatever you do, make sure your guests and vendors know about the backup plan well in advance.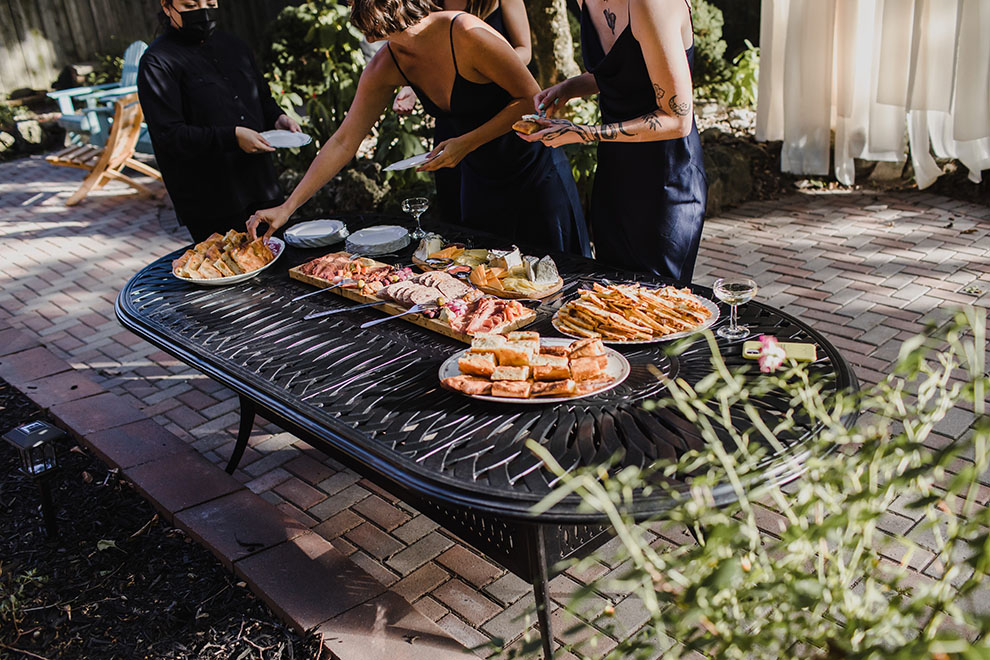 4. Get creative with the decor.
One of the bonuses of planning a backyard wedding is getting creative with your wedding decor. No matter how beautifully landscaped your backyard is, chances are it's pretty much a "clean slate" as far as venues go. Go wild! Check local rental companies, ask friends and family, and scour thrift stores for unique pieces.
Also, consider lighting. If you're getting married in the afternoon or evening, you'll probably need a way to light the space for the reception. Think string lights, candles, or even a bonfire. Your options are endless!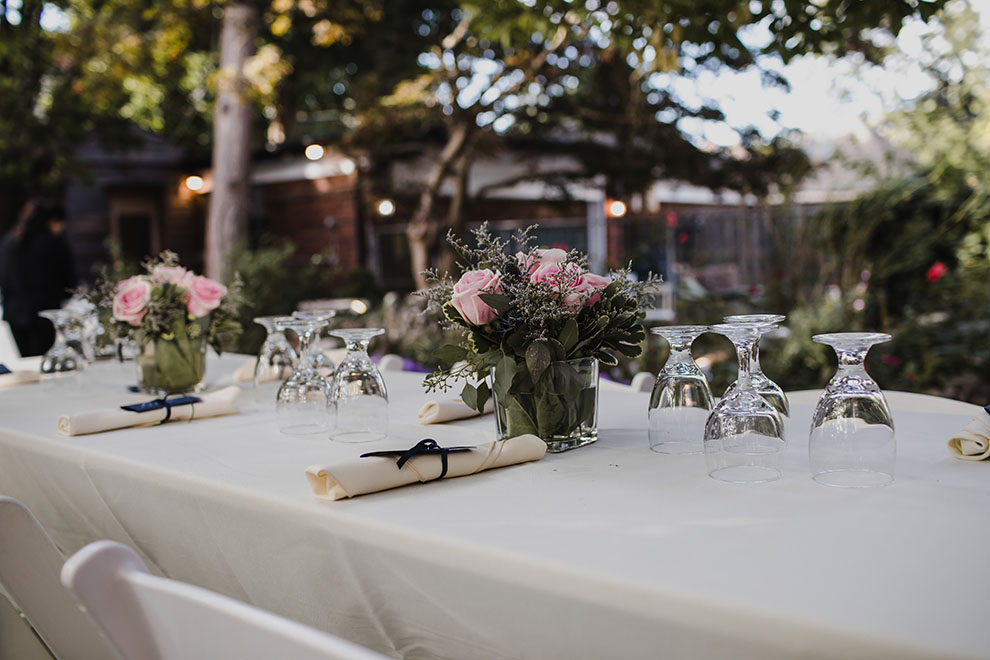 5. Talk it over with your photographer.
Before you lock in any of your other vendors, talk things over with your photographer. I've shot plenty of backyard weddings, and I'm more than happy to guide you through the process. Plus, not all vendors are willing to take on backyard weddings. We can work together to find the right vendors for you!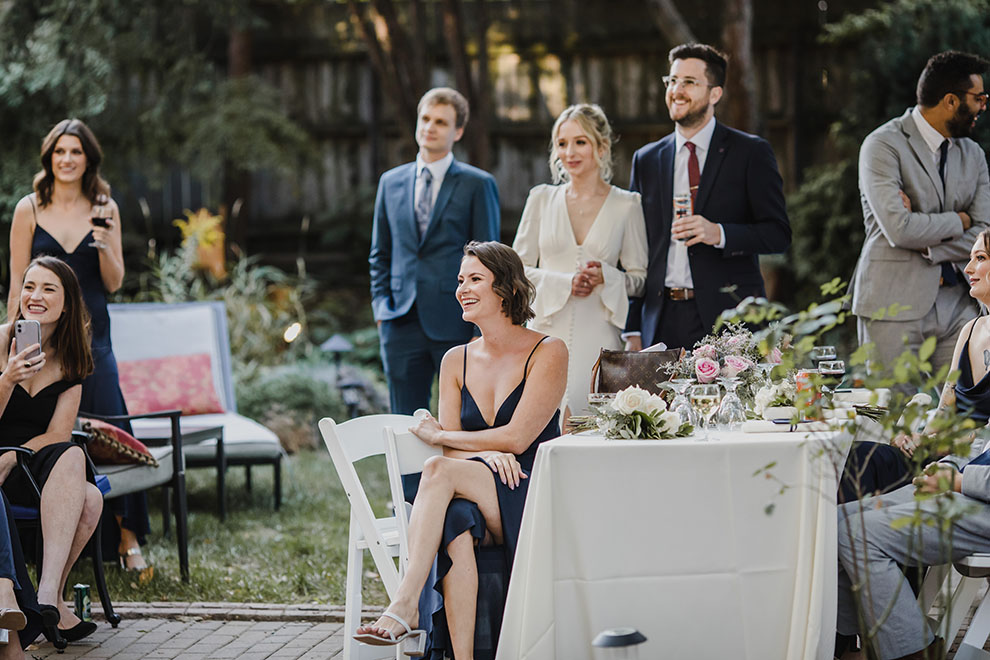 Planning A Backyard Wedding During COVID-19
If you're planning a backyard wedding during COVID-19, I highly recommend making additional adjustments to keep your guests and vendors safe. A few suggestions:
Provide masks and hand sanitizer, both for guests and vendors.
Allow for plenty of space between guests. This may mean you have to pare down your guest list a bit to create more space.
Plan for non-dancing activities, like yard games or live music.
These small adjustments can go a long way in keeping you and your guests safe and having fun on your wedding day.
Planning your own backyard wedding?
I'd love to help! I've shot several backyard weddings here in the Niagara area, and I'd be happy to guide you through the planning process and be there to capture your day.
Click below to send me a message!