← Back to Blog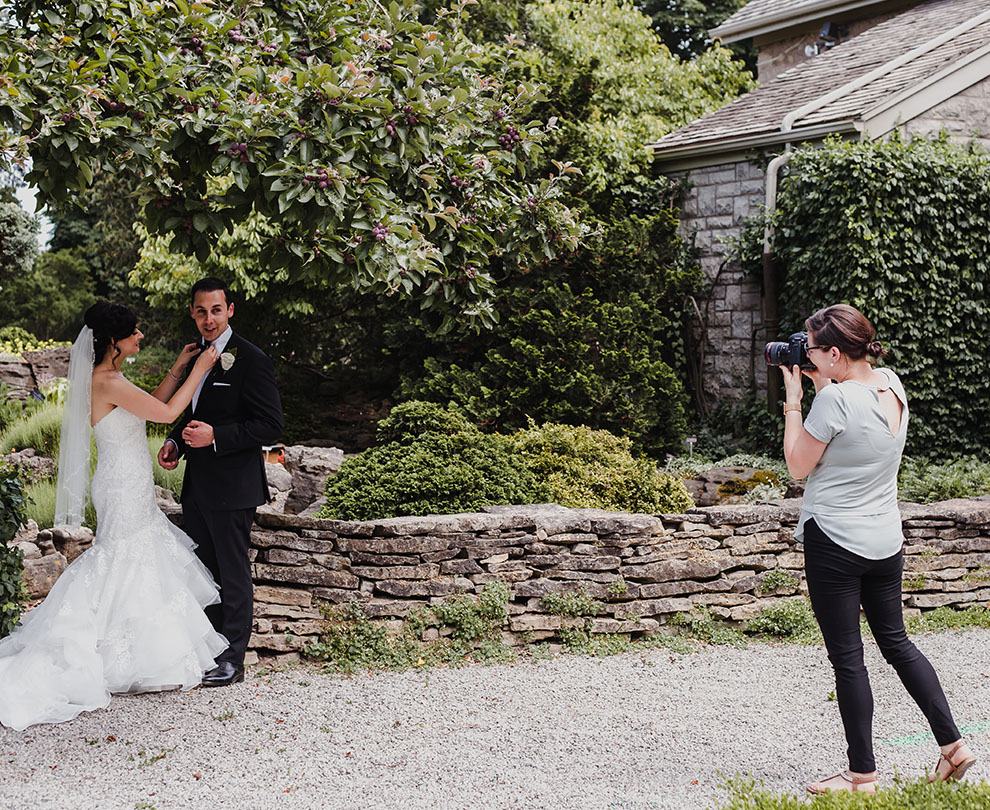 So you've found yourself recently engaged and in the planning stage of your wedding. And then the gloom of Covid-19 hit the media and you've been stuck in isolation starring down at that beautiful ring. I guess the silver lining in this all is that you have plenty of free time to dream up your beautiful wedding day plans. I bet your Pinterest board is exploding with ideas.
This is a great time to sort through all your options and really take a deep dive into ensuring you are choosing vendors that suit your overall vision of how you want your wedding day to look, feel and be remembered!
As we all find ourselves at home, with more available time on our hands then normal right now you can schedule in a video call with some of your top contenders to get to know them a bit better. Today on the blog I want to dive into some questions to ask wedding photographers before hiring them!
I have been a professional photographer for over a decade and I have been asked a slew of great questions in the pursuit of couples looking to hire me. I thought doing a round up of the best ones could help you on your quest to finding the perfect wedding photographer for you!
Let's dive in …
Availability
Obviously ensuring that your photographer of choice is free on the date you are planning for is most important. But if you have decided that having them shoot your wedding is a high level of importance for your big day, then perhaps you can work with their availability and choose a date that works for you both! There actually isn't a higher compliment to an artist then this!
Be sure to ask if the photographer you are interviewing is the sole business owner and the one that will be shooting your wedding. A lot of companies have associates that they outsource shooting to. In the case that you are leaning towards hiring a company that has a lot of different photographers – be sure to ask and request to meet the photographer that will be shooting your wedding!
Other important questions; How many other weddings will you be shooting on the same weekend as my wedding? Will you have an assistant or second shooter for my wedding day?
Lastly – If you are wanting to take advantage of an engagement session, be sure to ask the photographer if they have availability in the season or month that you are hoping to have that session.
Style & Approach
It is so important to ask the photographer to describe their shooting and photography style. Knowing if they prefer to blend into the background or if they prefer a hands on approach is very important in choosing a photographer that is going to flow with your vision of your day. Are you looking for a photographer that will give you a ton of direction, or are you looking to have your wedding day photograph in a non-intrusive, real genuine way. These two styles are on the opposite ends of the spectrum when it comes to style and approach. Knowing this ahead of time to hiring them is crucial to making the right decision.
Other important questions; Do you shoot digital or film? Or both? Will you deliver a collection that includes colour and black and white images? Can you tell me a bit about your editing process. Can we request a specific list of shots we want captured?
Collection Options & Add ons
Ask questions about what is included in the packages available and if there are options to customize. Be sure to ask what is included in terms of number of hours, number of images, and whether an engagement session is included?
Additionally, if you are interested in prints or albums make sure to ask them whether they are set up to offer you those types of custom products as well.
Delivery
You should know how you will be receiving your final collection. Are they going to be sending you the images via an online gallery? Ask about how long do you have access to your online gallery?
Reservation, Policies & Process
This is where you want to ask questions that include; What is you reservation process? How much is the deposit?
Also ask about contract, payment schedule, cancellation policy.
Other great questions to take notes on;
How long have you been shooting weddings?
Can you provide me with a link to testimonials?
Can I see a full gallery of a recent wedding?
Will you be carrying back up equipment?
Do you have liability insurance?
Have you photographed at my particular venue before?
Do you charge a travel fee? How much and what does that cover?
Will you be posting our wedding photos on your website and social media?
Will you be submitting our wedding to other publications?
Will we have the rights to the images?
I hope that these questions help you in finding the photographer that will be perfect for you.
PRO TIP *** Try to come prepared with a couple more personal questions to ask wedding photographers before hiring them! This will allow you to get to know the photographer on a personal level also. It's important to find a way to connect with them beyond business! (Following them on social is a great way to get to know them ahead of your call as well. ~ I love showing some BTS of my life and business over on Instagram)
If you are considering hiring me, you can read all about my documentary photography style HERE. If you are interested in chatting more about your wedding, reach out!